As we noted in the previous blog, Ken Knowlton created portraits using the pixel possibilities of dice, dominoes, Braille, seashells, jigsaw puzzle parts, crossword puzzles, and spools of thread. What's left? Plenty!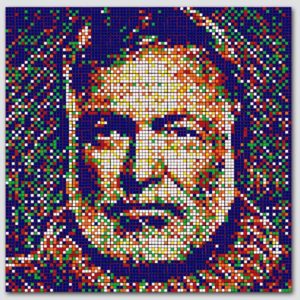 #1 -The Toronto-based Cube Works Studio defines itself as a small collaborative of specialized talents that creates entertaining works of art. From their website: "We began pushing the boundaries of modern art using the iconic Rubik's cube and have slowly expanded our portfolio of work to include collections created with Crayola Crayons, LEGO bricks, Vinyl Record Mosaics, Spools of Sewing Thread, Dice, Guitar Picks as well as Mixed Media and Fine Art paintings and portraits – the possibilities for art are infinite!"
Shown here is a portrait of author Ernest Hemingway in Rubik's cubes. Check out their collections for a feast of other images.
#2 – While Cube Works makes pictures from squares, UK artist Nikki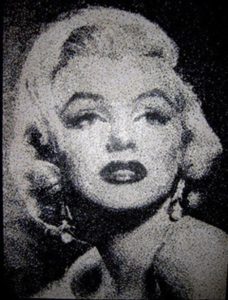 Douthwaite deals in dots – hundreds of thousands of them, all expelled from a humble hole-punch. Based in Manchester, England, Ms. Douthwaite collects the dots, painstakingly sorts them by color, and crafts them into images of icons like Jimi Hendrix, John Lennon, and Muhammad Ali. Shown here is an image of Marilyn Monroe made with 99,000 hole-punch dots in 2010. Although many colors of dots were used in the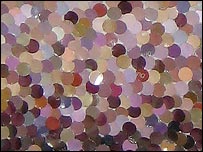 portrait, she arranged them in such a way that the image looks black and white.
In an interview with NBCNews.com, Ms. Douthwaite commented, "The idea to use hole-punch dots came from studying pointillist artist (Georges) Seurat for my degree. I don't really have a trick, just hard work and an obsession. Tweezering one dot on at a time and making sure the color mix is right before I start."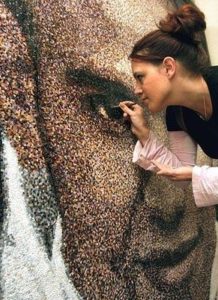 Ms. Douthwaite takes her inspiration from magazine photographs and may spend as much as 15 weeks on a single portrait. She notes, "The younger and prettier someone is the harder I seem to find it, as there tends to be less distinguishing features. I find facial features really easy. I spent the most time on their hair, and making John Lennon's glasses look real. Marilyn's eyelashes were tricky, trying to make them visible without being over the top."
Ms. Douthwaite is a huge Formula One racing fan and gained early fame for her portrait of Lewis Hamilton. (She's seen working on it at left). You can learn more about her by simply Googling her name. At the time of this writing, her website, http://www.nikkidouthwaite.co.uk/, is being reconstructed, but still contains great examples of her work.
One funny side effect of her chosen medium:  "My house has constantly got dots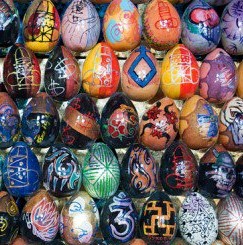 spilled everywhere. My friends call me up and say, 'I have a blue dot on my shoe, do you need me to bring it back?'"
#3 – Eggs as pixels. Ukrainian artist Okasana Mas uses her homeland's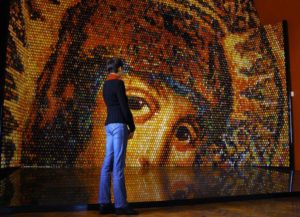 traditional folk art of decorating wooden eggs for Easter celebrations and applies them en masse to creating mosaic portraits such as this 7X7 meter (roughly 7.6 yards) one of the Virgin Mary made of 15,000 wooden eggs in the Saint Sophia Cathedral in Kiev. Learn more here.
Where do these artists get their patience?