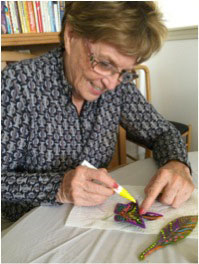 An easy and lovely craft to do with older adults or intergenerationally is leaf painting using chalk markers. The markers work like other felt-tip markers, but look more like chalk and can be rubbed off with a damp cloth while they are still moist or only freshly dried. Anything perceived as a "mistake" can therefore be easily corrected.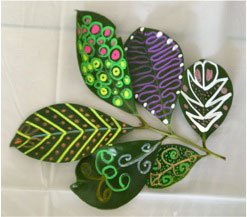 The idea came from another crafter who used fallen oak, maple, and other colorful fall leaves as a canvas, but because we live in Florida where deciduous trees are rare, our group experimented with real green and fake fall leaves. The real leaves were chosen randomly for their shapes. I clipped them from both a roadside wooded and (I confess) a landscaped area on a morning walk, then kept them damp until shortly before our painting session began. The fake leaves came from a craft store and a dollar store. Michael's sells fake maple and other leaves in packets, but my best bargains were taking a drastically price-reduced garland of fall leaves and two leafy silk "bouquets" and clipping them into individual leaves.
Simple supplies
Real or fake leaves/greenery
Chalk markers (We used Bistro and Craft Smart brands. Available in craft stores or on line in a wide variety of color combinations/packets and marker tip thicknesses.)
A plastic table cloth to protect the table
A damp cloth or paper towel for wiping off "mistakes"
Optional: wine so no one cares about mistakes and other refreshments to create a relaxed atmosphere
If you are using real leaves and live in the north, you have many choices from what has dried and fallen to the ground. If you live in the south, real leaves need to be as waxy as possible, and even they will shrivel to some degree within a few days. Thin green leaves are too fragile to use at all.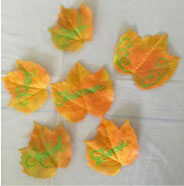 Leaves that are already colorful, like crotons, tend to be ignored by participants because how are they going to improve on nature? But leaves that have only green and white or yellow and green variegations such as peperomia proved popular.
Small leaves seem to be preferred over large ones. Magnolia leaves, for example, provided too large a canvas for participants who were still approaching this craft tentatively.
Ultimately, because we didn't have the dried leaves available in the north, the fake leaves were easiest to use. They were also popular because participants could take them for their own displays or uses – one woman made them into name place "cards" for an upcoming dinner she was hosting.
Designs
As you can see from these pictures, some people preferred to simply accent the natural veins in the leaves, while others opted for fancy patterns.

What didn't work well among the fake leaves: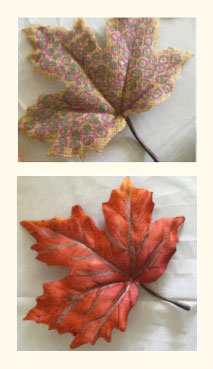 The burlap leaves were appealing, but tended to dilute the chalk colors. A different type of marker or paint would work better on them.
The very bright leaves that were originally part of the garland had plastic spines that prevented the leaves from laying flat and like the burlap leaves, tended to absorb the colors so they didn't show up as well.
Below: Green leaves shrivel over time – even waxy ones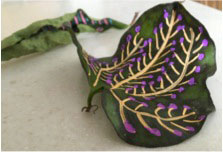 Final advice:
Experiment and enjoy!