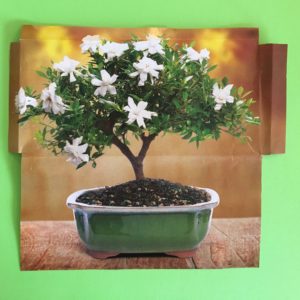 Another source for making enticing envelopes is catalogs. I get a bunch and usually drop them directly into a recycling bin, but a bonsai catalog made it all the way to my desk. I have mixed feelings about bonsai, because it seems cruel to keep a living thing from growing to its capacity.  But pictures of these tiny plants seemed to be a perfect source for making tiny envelopes.
I cut out dozens of the catalog photos and then experimented with how I might fold them to best advantage.  I used the simplest possible template format (illustrated at left) and freehand adjusted the flap sizes once I had figured out what section of the photo should be in the middle. A little glue on the side flaps and you've got an appealing little envelope!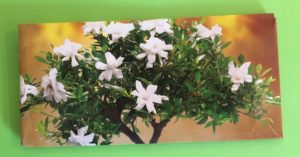 As these illustrations show, sometimes the backside turns out well. When it doesn't, consider pasting another picture over it or adding stickers or doodles – play!
I like these particular envelopes because nature is calming, and even if you can't get outdoors, pictures of plants can still be soothing and eye-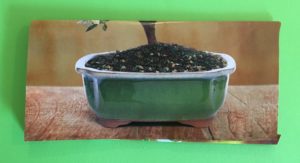 catching.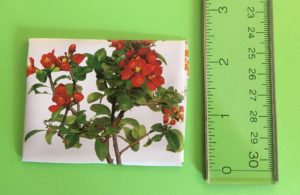 I also like little envelopes in general, because they can be used in multiple ways, such as:
Put a bare branch or two in a vase, punch a hole in the corner of the envelope, add a ribbon, and now your tree isn't bare! Or start with a pleasing silk bouquet and add to it.
Write a message, fold it up, put it in the envelope, and seal it with a sticker (and maybe a kiss). The message can be made for and given to a specific person. Or create general messages of gratitude and goodwill, or jokes or cheery quotes. Hang these envelopes on your tree branch or offer a bowl of these envelopes to your guests as they leave. Let them choose one from bowl or branch as a good fortune to follow them home and remember the pleasant time you've shared. We will be talking more about the messages for the envelopes and ways to display them in upcoming blog. You can also get a free download of instructions for Good Fortunes on the Creating Delight website.
Put a little treat inside – a piece of candy, little trinket, smiley or heart sticker, jewelry?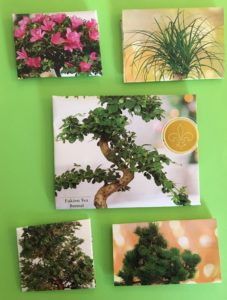 Here are some more samples of the envelopes we created from the bonsai catalog. The sheet of photos at right below is cropped, but in the left photo you can get an idea of their size because they all fit on an 8-1/2 X 11" sheet of paper.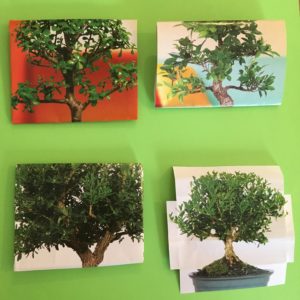 The fleur-de-lis seal on the tree at left covers unwanted copy. You can also use seals and stickers to cover prices.
I have done a similar set of envelopes using images from a jewelry and gift catalog which I will share soon.
Can you see how you might apply it to other publications?