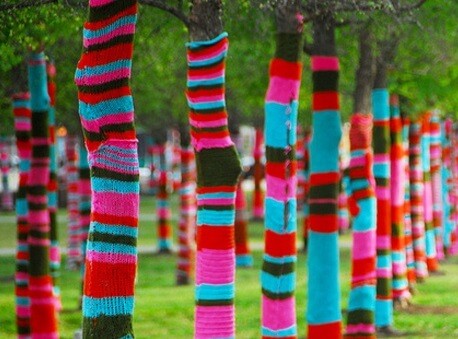 This next series of 5 improv artists blogs is focused on artists whose medium is fabric or needlework. We took you outdoors for the last series on street art, so it makes sense to transition to this new thread with Yarn Bombing.
Yarn bombing is a type of bio-degradable graffiti or street art that uses colorful displays of knitted or crocheted yarn or fiber on outdoor objects that may include parking meters, telephone booths, trees, statues, rocks, and pretty much anything else. The goal is to call attention to ordinary objects in a way that is pleasing to the eye and creates a moment of warmth and happiness in the mind. Among those adept with needles, it's also a welcome alternative to those who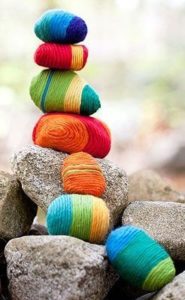 simply cannot face knitting one more sweater or pair of mittens.
According to the book Yarn Bombing by Mandy Moore and Leanne Prain,(one of surprisingly few on the topic) this new use for yarn had its beginnings in 2005 when Magda Sayeg created a knit "cozy" for the door handle of her shop in Houston, TX. Others say credit could reasonably go to others such as Houston artist Bill Davenport (1990s), Oregon artist Shanon Schollian (2002), or the Jafagirls in Yellow Springs, Ohio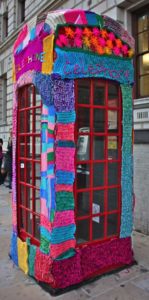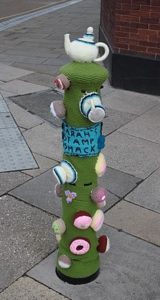 (2008). Or it may have originated in another part of the world altogether. It's certainly true that it has become a worldwide phenomenon that is frequently done for charitable purposes and almost always the noble purpose of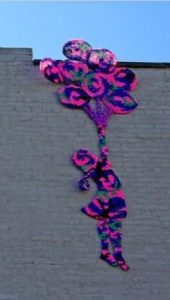 bringing a colorful bit of fun and whimsy to others, as described by Samantha Harris in this article.
While a few people have turned the form into an occupation through commissioned pieces, many, if not most, yarn bombing artists create their pieces surreptitiously and remain anonymous.  There are thousands of pictures of their works of art, however. We suggest you start here or here. And if you want to take it up yourself, read this article. (Picture at right is in Dubai)