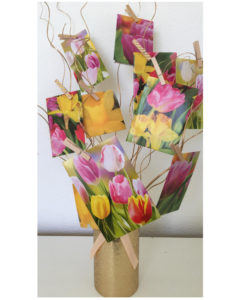 Last week was about Good Fortunes, and I hope you downloaded the complete exercise with its many message ideas to make it easy to do. But what the download doesn't cover is how to display them. Here are a few ideas.
At left you see a bouquet of squiggles – some sort of dried plant molded into spirals and spray-painted gold which I found at Michael's. The "vase" is the bottom of a round gift box, weighted down with glass marbles, both found at the Dollar Store. I also found some little clothespins decorated in gold at Michael's with which to pin bright tulip and daffodil envelopes. I am particularly partial to these squiggles because they look good in a vase by themselves and they can be used throughout the year simply by changing what is attached to them – ornaments in December, shamrocks in March and so on.
Each of the envelopes (all made from A Dollar Store calendar) contains a decorated message, and as they leave, I ask my guests to choose an envelope and take home their Good Fortune.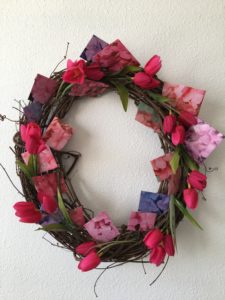 Because I am such a fanatic envelope maker, I can easily add more envelopes to the bouquet.
A second way to display these pretty envelopes is by sticking them randomly in a grape vine wreath. Again, the envelopes can change with the seasons, and chosen ones are easily replaced. You can also add other decorative touches – silk flowers as we did here, or Mardi Gras beads, or trinkets, for example. During December holidays you may want to use an evergreen wreath.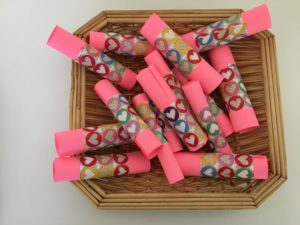 Probably the simplest way to offer these Good Fortune messages is to put the envelopes in a small basket and let people choose any one that strikes their fancy. I also like to skip the envelopes and print out the messages on a sheet of cheerfully-colored paper. Then cut the paper in strips, roll them up, and secure these scrolls with decorative paper as shown here as a Valentine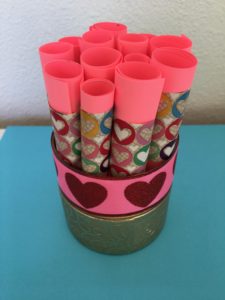 possibility. The scrolls can be placed randomly into a shallow basket as we suggested with the envelopes, or put in a round container as shown here. Note that we used the top of the gift box from the Dollar Store, the bottom of which was used above for a vase.
While this idea works well in your home, it is also a lovely way to brighten the day of residents and families in long-term care setting, visitors to a doctor's office, or customers in hair salons, mail service centers, and many more locations.
Check out "Creating Delight" on Pinterest for many more examples of envelope art and the messages inside.