Laura Bundesen is a western Massachusetts-based artist whose mission "is to spread joy and wonder through my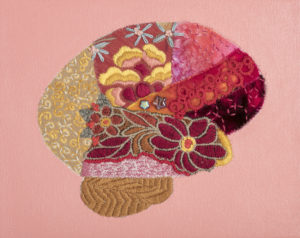 works of art – and a little brain education too." That makes her a perfect fit for this Improv Art blog.
Ms. Bundesen began exploring fiber art in the form of embroidery and crazy quilting in the late 1970's. Then in the 1990's she began playfully adding paint to her embroidered pieces. Now she describes her art like this: "I fabric collage and embroider first on raw canvas, by hand – sometimes adding beads – and then stretch the canvas and paint around the fiber. It's deliciously time intensive and meditative!" It's also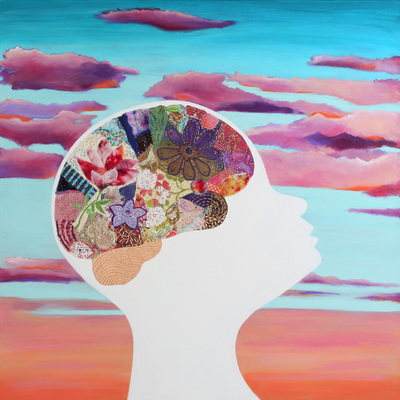 delicious eye-candy.
Her interest in the brain – or as she describes it, "single-mindedly pursuing the making of neuro art" – began a couple of years ago when she was encouraged by a neuroscience professor at the college where she helps faculty submit research grant proposals. In the summer of 2017, she entered a sculpted fabric brain in the Toronto Brain Project, an annual exhibit that aims to initiate a public conversation about brain health and bring awareness to diseases like Alzheimer's.
This blog post of hers includes loads of photos of others' submissions, as well as her own.
You can see lots of other examples of her art – incl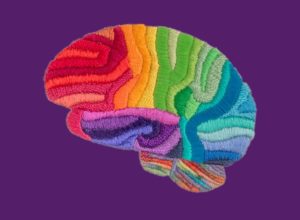 uding non-brain works – on her website gallery, and we've included a few samples here with her permission to whet your appetite. She has both original art and reproductions for sale, and if you would like to wear her art, purchase a rainbow brain T-shirt with the image (at right) of her embroidery here. Visit her website at LauraBundesen.com