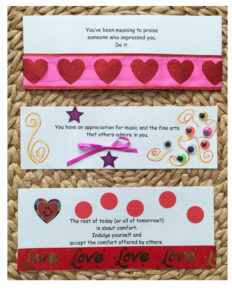 In my last blog, I provided suggestions for messages to put inside all the enticing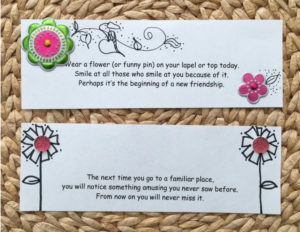 envelopes I have suggested making. Recently, I hosted a message-decorating gathering for the Good Fortune slips. The group was wonderfully creative. They used a lot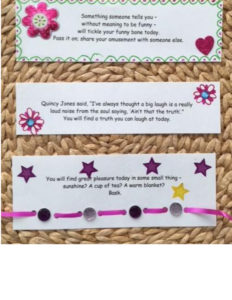 of rhinestones and other sparkly additions, not all of which photographed well, but I think you can get the idea from these examples.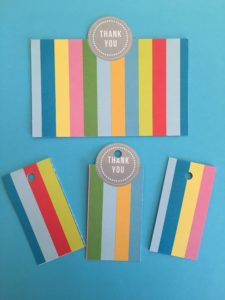 Using other sources
You can, of course, insert existing notecards, as a whole or cut into thirds as we did at left, if your greeting is short.
Other possibilities include: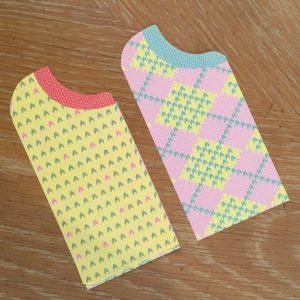 Gift tags
The backside of bookmarks
Rectangles of wrapping paper
Salvageable parts of watercolor paintings that didn't turn out quite as we hoped
The backside of various holiday and other greeting cards with interesting artwork
Quirky paper of all types – especially discounted in Op Shops (Australia) or Goodwill stores (USA). Flea markets and church rummage sales have also proven to have an abundance of choices. That explains the sock note paper also shown here.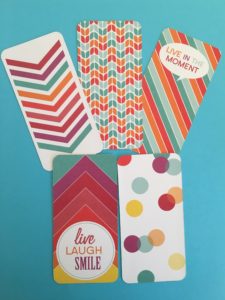 Another possibility is Project Life. They have many variations of what they call "Journaling cards" which come in packets of 12 designs that are either 3 X 4" or 2 X 4". We've shown a few samples here. The cards, as I've tried to illustrate in the samples, usually have a design on one side and space to write a special message on the other side. Some have room to write on both sides, with a grid or lines to help. Each packet has a color theme.
My friend Bron sometimes uses the cards in a group setting and encourages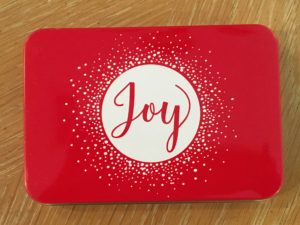 participants to write special messages to others and hang them on a gratitude tree as illustrated in our book, Creating Delight – Connecting Gratitude, Humor and Play for all ages. She also keeps a stack of cards handy and writes down anything that makes her smile on a given day.  She stores them in a decorated box and sifts through them whenever she wants to cheer herself up. The metal box shown above (meant to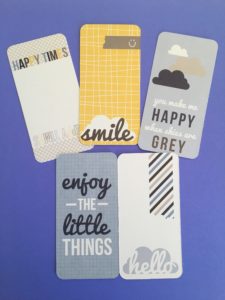 hold a holiday gift card) is also the perfect size.
But you can, of course, make your own cards and write your own messages to insert in envelopes. Get a pack of colorful index cards and round the edges. Or decorate colored paper with stickers and rubber stamps and write around them. Make a mini collage and write on the back side. Put on your magical imagination cap and go wild!