I admit that I've become obsessed with envelopes. I have written four blogs about them, and my late night relaxation ritual has lately been to cut and fold my way through at least a dozen more of these message holders, because the sources are endless.
But let's assume I have delivered on the concept of the creative fun you can have making envelopes. Let's move on to what you put inside. I have already told you the envelopes are good for:
Making a bill payment: Think of the delight you are giving to the person whose daily job it is to open and record these payments. Imagine her smile as she opens a non-traditional envelope. Imagine that she will share it with others and make them smile, too. Imagine that their days are a little brighter because of your gesture. Ripples, ripples . . .
Replacing the envelope that comes with a birthday or get well greeting or baby shower or cocktail party invitation. Yes, you've chosen the perfect card or invitation, but imagine the recipient's pleasure when even the envelope says, "This is going to be fun!"
You can also put messages of your own devising inside.
Valentine's Day is just a month away. Send candy hearts or a candy heart message. ("Be mine," "You're the coolest," "Love you," or "XOXO" for "hugs and kisses.")
Or choose a specific person and send a message from your heart: "I treasure our friendship," or "I admire you for your thoughtfulness."
Or cheer someone up with a one-line joke like, "A lot of people are afraid of heights. Not me. I'm afraid of widths." Or, "Experience is something you don't get until just after you need it." (From Steven Wright)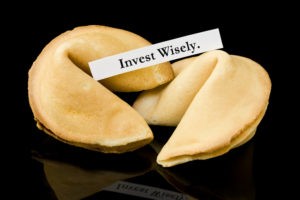 But my favorite idea for messages is a variation on Chinese fortune cookies. I have written about this in a free detailed handout called "Good Fortunes" available here on my Creating Delight website.  It was inspired by an essay in Meg Barnhouse's book , Did I Say That Out Loud?  She wrote that the fortunes encased in fortune cookies seemed to becoming increasingly lame and proposed instead fortunes that "excited the imagination, shone a light on new possibilities, and shifted perspectives."
For example, she might write, "You will see three beautiful things tomorrow." Tomorrow then you will be looking all day long for beautiful things, perhaps in places you never even thought about before.  Perhaps you will find more than three beautiful things, and then begin to contemplate which were the most beautiful things you saw. Wouldn't that balance out the horrors of the evening news?
Or Ms. Barnhouse might write: "Tomorrow someone will dazzle you with his or her smile," and all day long you will go around smiling at people hoping to instigate the dazzle. What a pleasant day that would make!
Send such a fortune-filled envelope to a specific person or leave a basket of envelopes for others to choose from as they come to or leave your home or community.
It does a body good – literally — to do something that makes others feel good. So go ahead. Create delight!