One of my favorite strategic thinking games is Gobblet.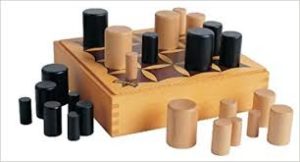 Gobblet is Tic-Tac-Toe on steroids. First, the new object is to get 4 of your cylinders in a row instead of just 3. Second, it has been made multi-dimensional. Each player is given 12 pieces, 3 each of 4 different sized cylinders. In other words, there are 24 pieces for 16 squares. If you put your smallest cylinder on the board in any position, it is likely to be "gobbled" by your opponent's cylinder one or two sizes larger to keep you from reaching that 4-in-a-row goal. But unless your opponent uses his largest piece, you can "gobble" his cylinder by putting an even larger one of yours over it. At the same time, because you each have only three of the largest cylinders, you can't win by simply playing your largest pieces. And because you are aiming for 4-in-a-row, there is no center square that gives the person with a piece there a strategic advantage. Strategy is key, and yet the most strategic move is constantly changing.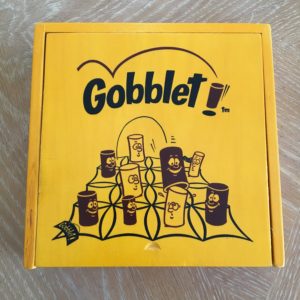 Gobblet is self-contained – the pieces fit inside the wooden box that doubles as playing board, and the playing board is nice enough to display on a coffee table, ready to use at a moment's notice. It is also both visually and physically appealing. For those unable to play according to the rules, simply holding the smooth, rounded wooden cylinders or slipping them one into the other can be satisfying.  This game is good for keeping your logical left brain lively, while also providing your creative right brain relaxing, pleasing-to-the-touch playing pieces.